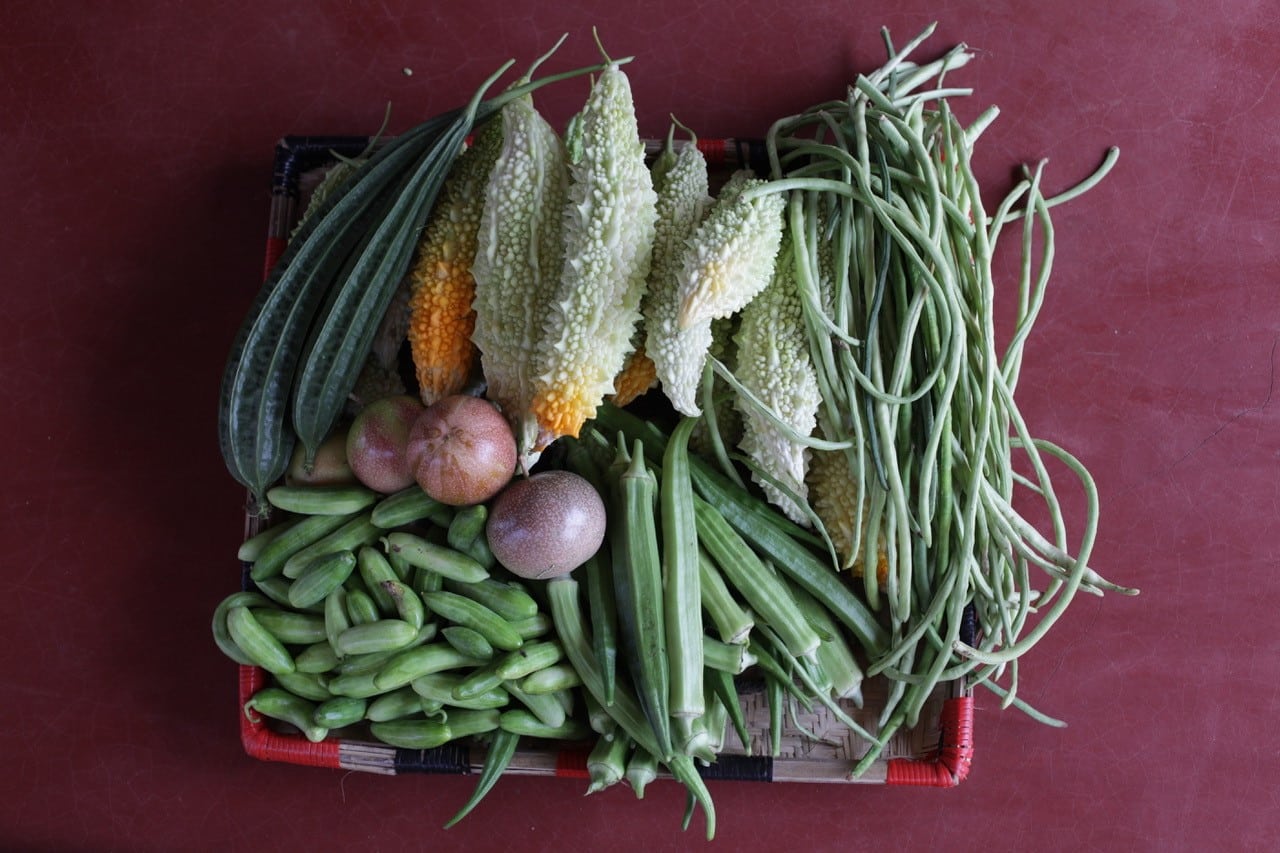 Photo: Jason Taylor for Food Diversity Day
Help celebrate and save food diversity and find out why it matters. Food Diversity Day is a project designed by food journalist and author Dan Saladino to celebrate Britain's most endangered foods and to help get more food diversity onto our plates. Madland met Saladino last year at the festival Grasp in a conversation about the importance of food diversity in Denmark and across the globe. The 11 free online events in 1 day are highly relevant to attend wherever your kitchen is placed in the world. 
While we're usually told to eat less in January, Dan Saladino is saying "eat more": find a food that's rare or endangered where you live; try a different variety of apple or cheese; celebrate foods that have been forgotten; learn about seeds and seed saving; and support food producers and farmers helping to preserve distinctive and diverse foods in your area. For one day (and the weekend to follow), talks and food experiences will inspire us to learn about our endangered foods and to eat more diversely. 
​On Friday January 13th, from 9am to 7.30pm, some of the UK's leading scientists, writers, chefs, farmers, campaigners and entrepreneurs will be taking part in a continuous feed of discussions, storytelling and information sharing - all about the wonders and importance of food diversity. These discussions will be made available for free via Eventbrite, live-streamed on YouTube and available to view after the event. Explore the resources for each of the sessions here.
Programme 
9am - 10am Welcome to Food Diversity Day!
In this opening session, you'll hear about the big ideas behind Food Diversity Day and learn more about the stories and themes that'll be explored across the ten different sessions. You'll also hear the latest thinking on why food diversity matters for our own health as well as that of the planet, and the value of food for community and identity.
Meet Polly Russell (food historian) talks to Dan Saladino (Eating to Extinction), Tim Benton (Chatham House), Tim Spector (Food For Life) and Melissa Thompson (Motherland: A Jamaican Cookbook) to answer the question, "Why does food diversity matter?"
10am - 11am Bread, Baking and the Diversity of Grains
Wheat is the globe's third largest commodity. Almost all the varieties grown are hybrids, dependent on pesticides and artificial fertilisers and bred for yield and ease of harvesting, milling and high-speed baking in vast integrated systems. Nutritional value, taste, baking quality, soil health and CO2 emissions are not usually part of the equation.
Can a new understanding of grain diversity change all that? There's growing evidence that it can. Three people in the wheat and bread business cast light on a changing wheat world.
Sheila Dillon with Kim Bell (UK Grain Lab), Wing Mon Cheung (Cereal Bakery), Fintan Keenan (Quartz Mølle, Denmark).
11am - 12pm Seeds: A Guide to Creating Diversity
Protecting food diversity isn't just about preserving what was important in the past, it's also about ensuring new diversity is being created in our future crops, vegetables and fruits. We need to make sure varieties are being developed and planted so they can evolve and adapt to future needs. The good news is this is a mission we can all participate in. Join Alys Fowler to hear how more of us can exchange, save and plant seeds, and create the diversity of the future.   
Meet Alys Fowler (horticulturalist), Sinead Fortune (Gaia Foundation), Madeline McKeever (Brown Envelope Seeds) and Guy Watson (Riverford).
12pm - 1pm Soil, Pasture & Animal breeds: Why Diversity Matters in Meat and Dairy
As Dan Saladino describes in Eating to Extinction, global meat and dairy production is based on a small gene pool of highly productive animal breeds. But around the world models exist in which diversity is still at the heart of the farming system. In this session we'll hear how diverse breeds raised on diverse pastures can produce food with benefits to soil, biodiversity and nutrition. 
Meet Jimmy Woodrow (Pasture For Life), Frederik Leroy (Vrije University, Brussels) and PlantLife UK.
1pm - 2pm A Chef's Guide to the Ark of Taste: Can Restaurants Save Endangered Foods?
Chefs are very influential tellers of food stories. Through their restaurants and cookbooks, and on television and radio they are able to shape tastes, set trends and raise our awareness on a whole host of issues. But can this influence be used to promote greater food and farming diversity? Join six leading chefs who are using their menus to save endangered foods. 
Meet Shane Holland (Slow Food UK), with chefs Michael Caines (Lympstone Manor, Devon), Akwasi Mensa (Tatale, London), Neil Forbes (Café St Honore, Edinburgh), Paula MacIntyre (presenter, Hamely Kitchen, Northern Ireland), Luke Holder (Lime Wood, Hampshire) and Neil Forbes (Café St Honore, Edinburgh).
2pm - 3pm Can Diversity Help Save the Oceans?
Our relationship with fish and seafood is problematic. The so-called 'big five' species, salmon, tuna, cod, haddock and prawns, make up 80 per cent of what we eat from the ocean. But why is this the case and what are the consequences for the marine environment? If it's possible to add more fish diversity to our diets, which species should we focus on? Join a marine ecologist, fisherman, retailer and chef in conversation on these important topics.     
Meet Bryce Stewart (York University), Mitch Tonks (Brixham), Sanjay Kumar (chef), Caroline Bennett (Sole of Discretion), and Chris Bean (fisherman).
3pm - 4pm
The Lentil Underground: the Power of Pulses
For more than 10,000 years pulses (beans, lentils, and peas) have been among the world's most important foods. However, in the last century, in many food cultures, they fell into decline as farming animals and meat eating became more widespread.
On a planet with a growing population, a dependence on fossil fuels and depleted soils, pulses are increasingly being seen as foods that can help us meet future challenges. They're also delicious. In this session we'll hear from people in different parts of the world who are reviving lost legumes and returning a diversity of pulses back to our plates. 
Meet Josiah Meldrum and Nick Saltmarsh (Hodmedods) with pulse revivalists from Sweden, Germany and Doc Bill Thomas from Sapelo Island, USA on the story of the Geechee Red pea.
4pm - 5pm Can Cities Save Food Diversity?
Today, 56% of the world's population – that's 4.4 billion inhabitants – live in cities. This trend towards urban living is expected to continue, with the population of cities more than doubling its current size by 2050, at which point nearly 7 of 10 people will live in a city. 
Does this necessarily mean a further decline of diversity in the way we farm and produce food? In this session, we'll be hearing stories from around the world in which cities are driving the transition towards greater food diversity, from an international network of farmers markets to innovations in the public procurement of food for schools and hospitals.
Meet Richard McCarthy (World Farmers Markets Coalition), Thomasina Miers (chef and writer), Carolyn Steel (author Hungry City & Sitopia), Dora Taylor (Farmerama) and Jannie Vestergaard (Copenhagen).
5pm - 6pm The Last of Their Kind: Endangered British Cheeses and How to Save Them
There are just a handful of farms left in the UK making traditional regional cheeses, such as Red Leicester, Lancashire and Wensleydale.
Join cheesemonger Andy Swinscoe from the Courtyard Dairy and cheese writer Patrick McGugian, plus the cheesemakers themselves, in a tasting talk exploring why territorial cheeses matter, the differences between farm and factory cheeses, and the importance of traditional cheesemaking.
The cheesemakers who will be part of the panel, plus the cheeses we will be trying:
Graham Kirkham: Kirkham's Lancashire, Jo Clarke: Sparkenhoe, Red Leicester, Sally Hattan: Stonebeck, Wensleydale.
A Food Diversity Day Cheese Selection box is available to go along with the talk. Purchase via Courtyard Dairy. (optional)
6pm - 7pm Bottling Biodiversity
For millennia, drinks have reflected a sense of place: the grape varieties used by winemakers, the types of barley and hops brewed to make beer and the plants and grains used for distillation and making spirits. Hear from some of the leading experts in wine, beer, cider and mescal on saving traditions, flavours and precious ingredients.  
Meet Pete Brown (Miracle Brew), with Marc Millon (wine writer), Sarah Abbott (Old Vine Conference), Lou Bank (Agave Road Trip), Gabe Cook (cider and perry expert), John Letts (grower of grains).
7pm - 7.30pm Closing session: A Food Diversity Manifesto
What have we learnt from Food Diversity Day and what can we all do to make a difference? Polly, Dan, Tim Benton and Tim Spector regroup to discuss the potential for a food diversity manifesto.
Meet Polly Russell, Dan Saladino, Tim Benton and Tim Spector.